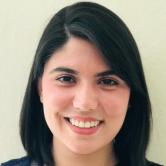 Former Researcher and Research Analyst,
Policy Analysis for California Education
Mona Vakilifathi was formerly a researcher at PACE. She provided weekly updates of political news and events on California's education system on PACE's first and former "Conditions of Education in California" blog. She was also a research analyst at PACE, assisting with data collection and data analysis for projects pertaining to teacher support, retention, and evaluation, as well as school leadership roles and responsibilities. She is currently assistant professor of public service at New York University. Vakilifathi received her PhD in political science from the University of California, San Diego.