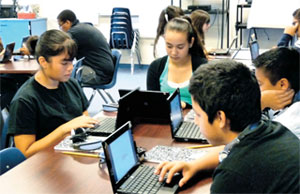 Videos and other materials from our recent conference are now available. The conference was held at Stanford on February 2, 2012. It was hosted by Silicon Valley Education Foundation, Policy Analysis for California Education and NewSchools Venture Fund. We thank our sponsor S.D. Bechtel, Jr. Foundation for making this conference possible.
The conference provided an opportunity for educators and policy-makers to learn about digital tools and resources that can help improve teaching and learning in middle grades math, and to consider the policy changes that California must make to take advantage of these new opportunities. Policy leaders and experts in education technology presented their views on what's becoming possible with the proliferation of digital technologies in California schools. Keynote speakers included Ted Mitchell from NewSchools Venture Fund, Tarkan Maner from Wyse Technology, and Jeremy Roschelle from SRI.
The conference also featured presentations from companies and organizations that have developed specific digital tools and resources for use in middle school mathematics, including Agile Mind, ALEKS, CFY, CK-12 Foundation, Edmodo, Key Curriculum Press: TinkerPlots and Sketchpad, Mathalicious, Motion Math, Monterey Institute for Technology and Education (MITE), and World Wide Workshop.