Publication:
Policy Analysis for California Education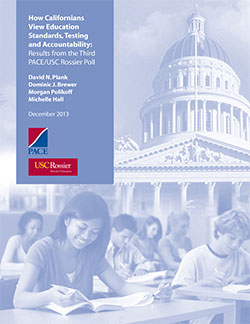 California is in the midst of sweeping education changes. The state is rolling out the Common Core State Standards (CCSS) and a new system of assessments. Voters approved a temporary statewide tax increase that will provide additional funding to schools after years of spending cuts. The Legislature adopted a new system for funding schools (the Local Control Funding Formula, or LCFF) that shifts resources to school districts that enroll lots of poor students and English learners, while granting local districts tremendous control over their budgets and spending. After years of budget cuts and policy stagnation, how do Californians view their education system and the changes that are now underway?
This brief presents the findings from the latest Policy Analysis for California Education (PACE) and University of Southern California Rossier School of Education poll of California voters on education issues, which was conducted by MFour/Tulchin Research in August 2013. This is the third in a series of PACE/USC Rossier polls. The findings from our earlier polls were summarized in a 2012 policy report. Findings from all PACE/USC Rossier polls are available here. This most recent poll surveyed registered voters' opinions regarding a variety of education-related topics, including standardized tests, curriculum, teachers, evaluations and accountability, the general direction of the state and state education, Governor Brown's job performance in handling education, Proposition 30 and school funding.