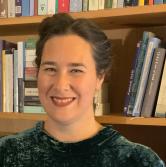 Publications and Communications Manager,
Policy Analysis for California Education, Stanford University
Amyrose McCue Gill is Publications and Communications Manager at PACE. Her company TextFormations, cofounded with Lisa Regan, works with individuals and institutions to manage, craft, refine, and polish research and writing projects across academia, education, music, and the arts. Amyrose has been a project manager, editor, and translator for two decades and is dedicated to providing tailored support that helps organizations and authors articulate, document, and execute their publishing endeavours.