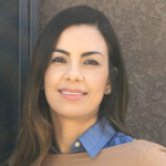 Coach, The Fresno Language Project,
Fresno Unified School District
Anna Arambula is the coach for the Fresno Language Project (FLP) in the Fresno Unified School District. FLP's mission is to ensure that all children have a strong foundation in both English and their home language when they enter kindergarten. Arambula supports 19 center-based and in-home care learning settings by providing a minimum of three coaching sessions per month to support practitioners in implementing concrete strategies that support learning. Prior to joining FLP,  she worked at the Fresno Economic Opportunities Commission Early Head Start program, and before that, was a teacher and center director at the Jane Addams Early Head Start. Arambula received a bachelor's degree in liberal studies with a concentration in early childhood and a master's degree in early childhood education from California State University, Fresno. 
updated 2019