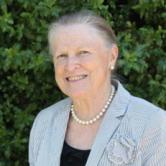 Vice President for Mission and Professor of Education,
Saint Mary's College
Carole Swain is retired from Saint Mary's College where she served as vice president for mission and professor of education. The Brothers of Saint Mary's College presented her with the Lasallian Award; the Alumni Association recognized her with Signum Fidei Award; the Lasallian Volunteers Program granted her the Johnson Faith Award; and the college named her professor of the year. Swain is past chair of the boards at Cristo Rey De La Salle East Bay High School, De La Salle High School in Concord, and De Marillac Academy in San Francisco. She received her doctorate in psychology and education from the University of California, Berkeley.
updated 1985