Caroline Sotello Viernes Turner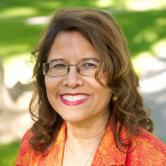 Caroline Sotello Viernes Turner
Professor Emeritus, Mary Lou Fulton Teachers College,
Arizona State University
Caroline Sotello Viernes Turner is professor emerita in the division of educational leadership and policy studies Lincoln Professor of Ethics and Education, and doctoral program director for Higher and Postsecondary Education at Arizona State University. Turner is the 2009 recipient of the American Educational Research Association (AERA) Scholars of Color in Education Distinguished Career Contribution Award; the 2009 AERA Dr. Carlos J. Vallejo Memorial Award for Lifetime Scholarship; the 2008 recipient of the Association for the Study of Higher Education Council on Ethnic Participation Mildred Garcia Award for Exemplary Scholarship; and the 2008 recipient of the Mary Lou Fulton College of Education Dean's Faculty Excellence Award. She serves as the state site coordinator for the Arizona Education Policy Fellowship Program; as president-elect of the College of Education Faculty Council; and as past president of the Arizona State University Chicano/Latino Faculty and Staff Association. Turner received her PhD in administration and policy analysis from the Stanford University School of Education.
updated 2009