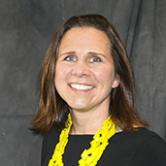 Chair, Department of Educational Leadership and Policy Studies,
University of Huston
Catherine L. Horn is chair of the Department of Educational Leadership and Policy Studies at the University of Houston. She is also executive director of the Institute for Educational Policy Research and Evaluation and program coordinator for the Higher Education and Cultural Studies Program. She has served as a research consultant on educational policy and higher education for numerous research institutions and organizations, including the World Bank. Her scholarship focuses on the systemic influences of secondary and postsecondary testing and related policies on the learning trajectories of students. She serves as the associate editor of the Review of Higher Education. She has worked as a research associate for The Civil Rights Project at Harvard University and as senior research associate for the Center for the Study of Testing, Evaluation, and Educational Policy's National Board on Educational Testing and Public Policy at Boston College. She received her PhD in educational research, measurement, and evaluation from Boston College.
updated 2011