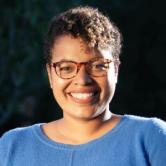 Researcher and Policy Analyst,
Learning Policy Institute
Desiree Carver-Thomas is a member of LPI's Educator Quality Team. She is the author of Diversifying the Teaching Profession: How to Recruit and Retain Teachers of Color and the lead author of Addressing California's Growing Teacher Shortage: 2017 Update. Previously, Carver-Thomas taught in New York City public schools for five years. As a graduate student, she consulted with the San Francisco Juvenile Probation Department on strategies for diverting recidivism and with West Contra Costa Unified School District on implementing a full-service community schools' initiative. She also conducted similar work with the City of Richmond. Carver-Thomas received an M.P.P. from the Goldman School of Public Policy at UC Berkeley, an M.S. in Teaching from Fordham University, and a B.A. in Comparative Ethnic Studies with a concentration in Anthropology from Columbia University.