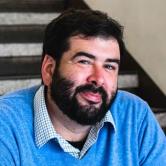 Assistant Professor and Bilingual Program Coordinator,
San José State University
Dr. Eduardo R. Muñoz-Muñoz is an Assistant Professor and the Bilingual Program Coordinator at the Lurie College of Education at San José State University, California. In his research, teaching, and practice, he engages with issues of linguistic access and educational opportunities from a policy ethnography stance. He regularly supports and advises districts and dual immersion programs on design and implementational issues pertaining to multilingualism.