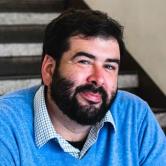 Assistant Professor and Bilingual Program Coordinator,
San José State University
Eduardo R. Muñoz-Muñoz is an assistant professor and the bilingual program coordinator at Lurie College of Education at San José State University. In his research, teaching, and practice, he engages, from a policy-ethnography stance, with issues of linguistic access and educational opportunities. He regularly supports and advises districts and dual-immersion programs on design and implementation issues pertaining to multilingualism. He received his PhD from Stanford University.
updated 2020