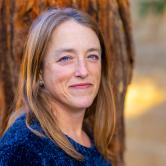 Director, Strategic Partnerships,
Policy Analysis for California Education, Stanford University
H. Alix Gallagher is the director of strategic partnerships for PACE. The current partners include CORE Districts, California Education Partners, and Mills Teacher Scholars. The partners codevelop formative research questions to ensure the relevance of PACE's research; translate findings from extant research to inform practitioners; and conduct summative evaluations that provide implications for education policy and practice. In response to COVID-19, Gallagher leveraged her knowledge of instruction and teacher learning to support partners rethinking instructional models to include distance and blended learning. Before joining PACE, Gallagher was an associate director at the Center for Education Policy at SRI International, where she led large-scale randomized controlled trials and policy studies. She received her PhD from the University of Wisconsin—Madison.
updated 2021