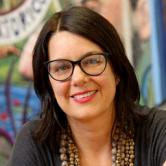 Associate Professor, Educational Technology, Research and Assessment,
Northern Illinois University
Laura Ruth Johnson is an associate professor in the Department of Educational Technology, Research, and Assessment at Northern Illinois University. She teaches courses in qualitative research methods, including courses in ethnographic research, interview methods, and community-based/participatory action research. Her research focuses on civic engagement and community involvement among Latinx and African American youth, with an emphasis on pregnant and parenting youth, as well as on community-based qualitative research methods. She is the founder and director Proyecto Atabey and serves as secretary for the board of Youth Connection Charter School. She was founding director of the Family Learning Center, a family literacy program of the Puerto Rican Cultural Center. Johnson received her PhD in language and literacy, society, and culture from the University of California, Berkeley.
updated 2001