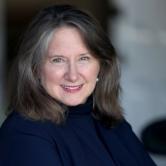 Director of Research and Policy, Center for Equity for English Learners and Affiliate Faculty, School of Education,
Loyola Marymount University
Linda Kaminski is the director of research and policy at the Center for Equity for English Learners as well as affiliate faculty at the School of Education at Loyola Marymount University. She began her career as a bilingual teacher and came to serve schools as an elementary principal, coordinator, assistant superintendent, and superintendent. In 2017, Kaminski was selected by the Los Angeles County Office of Education as its inaugural Superintendent of the Year. In 2019–20, Kaminski served as president of the Association of California School Administrators (ACSA). She currently serves on the ACSA/California Association of Professors of Education Administration committee to support higher education and K–12 education, to advance professional preparation and development, and to influence and contribute to the education research agenda. Her research addresses equity-based leadership and the impact of programs and policies on curriculum, instruction, and accountability on culturally and linguistically diverse students, their teachers, and administrators. Kaminski received her MEd and EdD in administration, policy, and social planning from Harvard Graduate School of Education.
updated 2023