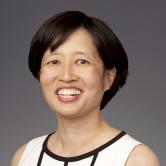 Vice-President, Health Policy,
California Medical Association
Yvonne Choong is vice president for the Center for Health Policy at the California Medical Association, which provides research and analysis on a broad range of health policy issues that affect physicians and patient care. Choong previously worked for the University of Southern California, School of Policy, Planning and Development, the Judicial Council of California, and the California Legislative Analyst's Office. Choong received her MPP from the Harris School of Public Policy Studies at the University of Chicago.
updated 1997