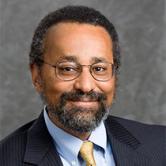 The Honorable William H. Orrick, Jr. Distinguished Professor,
UC Berkeley School of Law
Christopher Edley, Jr. is the co-founder and president emeritus of the Opportunity Institute, a nonprofit organization that focuses on improving cradle-to-career educational opportunities to help eradicate poverty and racial inequality. He co-chaired the congressionally chartered National Commission on Education Equity and Excellence (2011-13), appointed by Secretary Arne Duncan. Dr. Edley was Dean of UC Berkeley Law School (2004-13) and continues there as the Honorable William H. Orrick, Jr., Distinguished Professor of Law, teaching administrative law and education law. Before UC Berkeley, he was a professor at Harvard Law School for 23 years, where he co-founded the Harvard Civil Rights Project with Professor Gary Orfield. Dr. Edley also served in White House policy and budget positions under presidents Jimmy Carter and Bill Clinton, and held senior positions in five presidential campaigns: Michael Dukakis, Al Gore, Howard Dean, Barack Obama, and Hillary Clinton.