Expanding Multi-Tiered System of Supports in California
Sanger Unified and the Pivot–Sanger Multi-Tiered System of Supports Project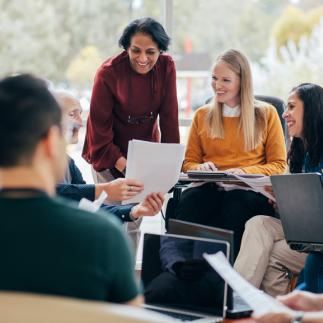 Summary
Equity is the consistent thread that runs through major California education policies of the last decade, which have focused on providing access and opportunity tailored to students' needs in order to reduce disparities in learning outcomes. Equity challenges, already significant prior to COVID-19, have been exacerbated by the pandemic's education disruptions.
Multi-Tiered System of Supports (MTSS) offers a framework for identifying students who are struggling and who need focused support to meet academic, behavioral, and social- emotional challenges. How can California make MTSS implementation more accessible to school districts as they strive to support all students equitably?
From 2018 to 2020, Pivot Learning led a demonstration project involving the Sanger, Monterey Peninsula, and Lancaster school districts. Sanger has coherently and cohesively implemented MTSS in a way that adapts the framework to the district's culture. The Pivot-led project, with Monterey and Lancaster as pilot sites, sought to determine if direct support by Sanger, based on its expertise, could help Monterey and Lancaster develop their own district-relevant MTSS implementation strategies.
This study combines previous research about Sanger's education improvement efforts with data from the Pivot–Sanger MTSS Project to identify a set of lessons learned that might help guide the state's continued expansion of MTSS. Principal findings from this study are as follows:
Collaborative culture is central to developing the common vision and shared purpose foundational to MTSS implementation. Sanger's improvement path and the trajectory of the pilot districts' MTSS work show that district culture is malleable and is responsive to attention and commitment.
MTSS implementation requires a careful and simultaneous process of replication and adaptation—fidelity to basic MTSS framework elements and adaptation to a district's context and culture. Sanger consultants' peer-to-peer support offered pilot districts experienced guidance about the MTSS framework and real-world experience developing district-sensitive approaches to MTSS Implementation.
An experienced outside agency can provide resources and assistance. Pivot served as project guide and gentle provocateur. In this role, Pivot was able to: (a) use its knowledge of systems change to spur pilot districts to uncover their strengths and address their challenges; (b) apply appropriate pressure to ensure the pilot districts met milestones and continued moving forward; and (c) develop a project-specific learning network that created space for participating districts to engage in reciprocal learning and mutual problem solving.
This report, like all PACE publications, has been thoroughly reviewed for factual accuracy and research integrity, and we thank this publication's reviewers. We also wish to thank those we interviewed for this report and our funder, the Stuart Foundation.
Suggested citation
Koppich, J. (2020, August). Expanding Multi-Tiered System of Supports in California: Sanger Unified and the Pivot–Sanger Multi-Tiered System of Supports project [Report]. Policy Analysis for California Education. https://edpolicyinca.org/publications/expanding-multi-tiered-system-supports-california