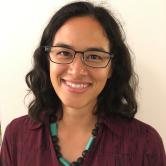 Former Research Analyst,
Policy Analysis for California Education, Stanford University
Angela Gong was a research analyst with PACE. She is presently a teacher of 7th and 8th grade math in the Granite School District, Salt Lake County, Utah. She was previously a middle school science teacher in Oklahoma City and a test developer for the National Assessment of Educational Progress in Washington, DC. She has been interested in how school- and district-level leaders gather, interpret, and act on data, especially formative achievement data. She received her joint MA/MPP from Stanford University.
updated 2023