A Student-Centered Culture of Improvement
The Case of Garden Grove Unified School District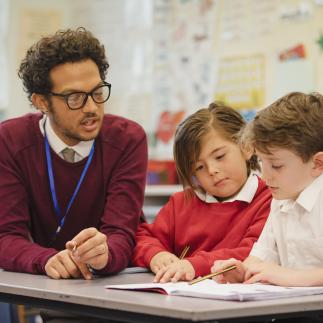 Summary
This case study of the culture of improvement in the Garden Grove Unified School District (GGUSD) is part of a broader set of reports on findings from the CORE-PACE Research Partnership's developmental evaluation in 2018-19. The research in 2018-19 focused on elevating lessons about how educators learn continuous improvement and the organizational conditions that support continuous improvement work in schools and districts. This report is part of a set of three case studies. This case describes GGUSD's structures and processes that develop coherence throughout the district and support a culture of improvement. Staff across the GGUSD point to the organizational culture—a culture that puts kids first; nurtures commitment, drive, and loyalty among teachers and district staff; and views both student and adult learning as important—as the driver for the district's sustained growth. In this case study we examine four structures and processes district leadership used in Garden Grove to establish and maintain this productive culture of improvement:
The district focuses on three consistent goals to build commitment and trust around its "North Star" of improving student outcomes, deliberately moving slowly to work towards them, and involving all adults in the system.
GGUSD uses data to identify areas of needed reform and is building out data systems to provide more accurate analytic feedback on districtwide and school- specific initiatives.
GGUSD uses vertical and horizontal structures to maintain coherence and allow information to flow in many directions throughout the district, of which a cadre of teachers on special assignment (TOSAs) are the central component.
The district prioritizes people and focuses resources on finding and keeping skilled personnel and developing high-quality teachers.
The lessons learned from GGUSD have broad implications for California districts seeking to support a culture of improvement. While some circumstances of GGUSD differs from other districts (e.g., a leadership team that has been in place for many years) it serves a student population that is similar to many other districts in California. The lessons we put forth here could be implemented in many districts by changing leadership approaches and reallocating existing resources. While many questions remain about how continuous improvement develops across varying contexts, understanding aspects of how GGUSD has steadily focused on student success to achieve growth over time will shed light on how districts could use or modify existing structures and processes to create a culture of continuous improvement.
Suggested citation
Cottingham, B., Gong, A., & Gallagher, H. A. (2019, October). A student-centered culture of improvement: The case of Garden Grove Unified School District [Report]. Policy Analysis for California Education. https://edpolicyinca.org/publications/student-centered-culture-improvement-case-garden-grove-unified-school-district