Leadership that Supports Continuous Improvement
The Case of Ayer Elementary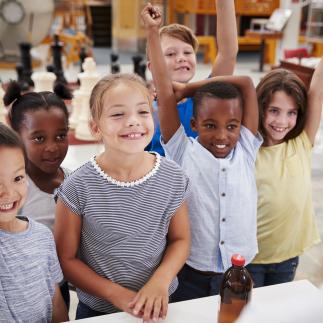 Summary
In the past few years, California's education policies have focused on continuous improvement as a general approach to improving student outcomes. While approaches for doing continuous improvement are sometimes well-specified (e.g., in specific methodologies such as improvement science, Baldridge, Deliverology, etc.), much less is known about the organizational conditions that enable continuous improvement to flourish. This case study of leadership at Ayer Elementary School in the Fresno Unified School District is part of a broader set of reports on findings from the CORE-PACE Research Partnership's developmental evaluation in 2018-19. The research focused on elevating lessons about how educators learn continuous improvement and the organizational conditions that support continuous improvement work in schools and districts. While Ayer was selected as an exemplar of leadership practice, in many ways it is similar to other elementary schools in the district. It serves an ethnically diverse, high-poverty student population and has faced challenges hiring fully-credentialed, experienced teachers to fill job openings. Nonetheless, student performance has been rising slowly but steadily over the past few years. This case examines the leadership practices at Ayer Elementary, where teachers are conducting systematic inquiries into fundamental aspects of their practice as part of continuous improvement projects. After examining the leaders' practices, we believe they are both effective at supporting continuous improvement and largely replicable in other schools and districts. We first examine the external supports the school's improvement teams received from their district and the
CORE Districts.
Then we delve more deeply into the leadership practices, which teachers credit with supporting them to undertake challenging work using a continuous improvement approach. We derived three main lessons from our interviews, observations, and analyses of artifacts:
A range of district resources and supports from the CORE Districts provided a foundation for Ayer's continuous improvement work.
The principal's commitment to improvement projects and the leadership team's approach created a culture that nurtured continuous improvement.
The leadership and improvement culture at Ayer led to a strong sense of teacher agency, which in turn created space and motivation for teachers to focus on how they could address systemic inequities.
The report offers insights into how leaders can foster a culture of risk-taking, teacher agency, and collective efficacy. It also raises questions about how to support more principals in learning the leadership skills necessary to support the desired spread of continuous improvement in California.
Suggested citation
Kennedy, K., & Gallagher, H. A. (2019, October). Leadership that supports continuous improvement: The case of Ayer Elementary [Report]. Policy Analysis for California Education. https://edpolicyinca.org/publications/leadership-supports-continuous-improvement-case-ayer-elementary
Learn more about this topic:
Learn more about this initiative:
Related events
Evidence to Advance Equity and Excellence in California's Cradle-to-Career Vision
Lessons from the CORE Districts