Bridging the Knowing-Doing Gap for Continuous Improvement
The Case of Long Beach Unified School District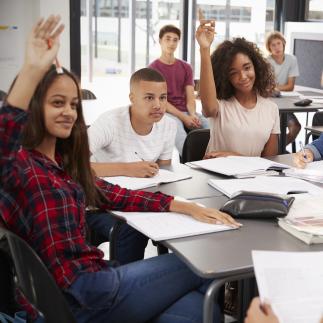 Summary
This case study in the Long Beach Unified School District is part of a broader set of reports on findings from the CORE-PACE Research Partnership's developmental evaluation in 2018-19. The research in 2018-19 focused on elevating lessons about how educators learn continuous improvement and the organizational conditions that support continuous improvement work in schools and districts. This case study examines continuous improvement work within Long Beach Unified School District (LBUSD), focusing on the efforts to improve student learning through an integrated system of supports driven by a clear vision for high-quality instruction. In describing the district's continuous improvement approach, our goal is to highlight examples and strategies that may be useful to leaders and organizations engaged in similar work. While some aspects of LBUSD's context differ from many districts in the state (e.g., the stability of district leadership and generally positive relationships among district leaders, the school board, and teachers' union), we believe the practices we describe in this case are replicable in most districts and would lead to improvements in organizational function. Four specific lessons about engaging in continuous improvement gained from LBUSD's work are highlighted:
Educators share clarity of purpose and continuously strive to build coherence across the system with the central goal of improving classroom instruction.
Leaders intentionally fill in the knowing-doing gap of instructional practice by creating and maintaining structures for shared learning across the system.
Teachers and administrators are provided with differentiated support, coaching, and opportunities to be instructional leaders. The district expects that everyone is or will become an instructional leader, with deep knowledge of pedagogy and the ability to facilitate both student and adult learning.
Leaders understand that scaling good ideas is not just about spreading effective practices, but also deepening understanding of implementation. Engaging in continuous improvement means grappling with dilemmas of time, resources, and focus.
Overall, LBUSD represents a portrait of a learning system that emphasizes improvement towards high-quality, rigorous instruction for all students through professional learning and capacity-building. Their efforts offer critical insights and reflection for other systems and leaders interested in supporting continuous improvement for both student and adult learning.
Suggested citation
Park, V. (2019, October). Bridging the knowing–doing gap for continuous improvement: The case of Long Beach Unified School District [Report]. Policy Analysis for California Education. https://edpolicyinca.org/publications/bridging-knowing-doing-gap-continuous-improvement-case-long-beach-unified-school-district
Learn more about this initiative:
Learn more about this topic: