Early Indicators of Systemic Improvement
A Case Study of Two High-Poverty School Districts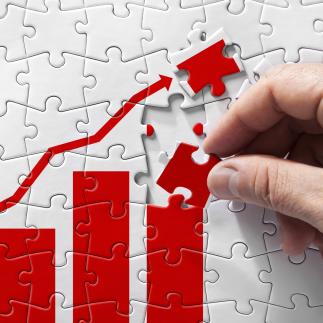 Summary
This report examines two districts—Azusa Unified and Dinuba Unified—that have begun to shift district structures, policies, and culture to have a measurable effect on student outcomes.
Both districts have committed to reducing the D/F rate for students (eighth graders in Dinuba and ninth graders in Azusa) as part of a learning community led by California Education Partners (Ed Partners). The districts have collaborated with Ed Partners for multiple years to refine their continuous improvement approach and build capacity for sustained improvement. Although neither district has realized its improvement goals, student academic outcomes in the districts have begun trending in a positive direction. The improvement teams have started to spread proven practices with the support of system leaders throughout each district. PACE's data show that staff in each district—including those who have never worked directly with Ed Partners—have begun to internalize continuous improvement structures and processes and are now scaling these processes to address other problems of practice, even those beyond instruction.
The goal of this report is to examine the leading indicators for how improvement efforts can support organizational coherence, improve instruction, and positively affect student outcomes. PACE's analysis of interviews and observations in Azusa and Dinuba revealed three key lessons that districts can take to lead impactful improvement efforts:
anchor work in outcome measures to motivate educators, support learning, and maintain focus;
invest in an aligned system of instructional learning to support teachers in improving instruction and ensure the depth of understanding, ownership, and spread necessary for scale; and
use cross-role and cross-site structures to help spread promising practices and increase sustainability.
Structuring the improvement efforts around these key lessons with the support of Ed Partners has contributed to positive trends for student achievement across multiple subject areas and demographic groups. Additionally, both districts have used improvement structures and processes to empower practitioners, building their capacity to lead improvement efforts across each system. This report describes how districts can build their internal capacity for improvement with support from an external partner and highlights key lessons that other districts can apply to improve student outcomes and their systems overall.
Suggested citation
Cottingham, B. W., O'Meara, K., & Gallagher, H. A. (2022, March). Early indicators of systemic improvement: A case study of two high-poverty school districts [Report]. Policy Analysis for California Education. https://edpolicyinca.org/publications/early-indicators-systemic-improvement