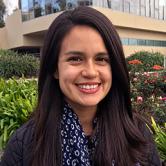 Senior Research Associate,
Policy Analysis for California Education, Stanford University
Belen Chavez is a senior research associate at PACE. In that role, she focuses both on improving data quality and on helping education policy leaders and researchers by providing them with actionable data. She is an applied data analyst and has previous data experience in e-commerce, utilities, and litigation consulting. Before joining PACE, she managed the Stanford Education Data Archive at the Center for Education Policy Analysis at Stanford University. She received her bachelor's degree in business economics from the University of California, Irvine, and her master's degree in economics from Duke University.
updated 2021