Publication:
Policy Analysis for California Education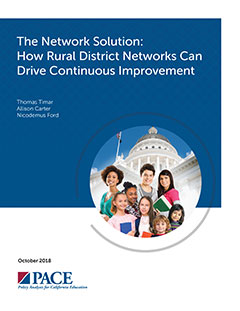 Rural school districts face unique challenges in procuring funds, recruiting staff, and obtaining high-quality technical assistance. This environment creates problems in identifying high-quality instructional materials and implementing best practices.
A collaborative learning network can address these challenges by providing access to professional development, collaborative time with peer districts, and economies of scale. Pivot Learning designed the Rural Professional Learning Network (RPLN) to address this need and partnered with the El Dorado County Office of Education (EDCOE) in the 2016–2017 school year to pilot the program.
Pivot and EDCOE served as the facilitators of the network by organizing meetings, offering technical assistance, supporting site visits, bringing in external experts, and providing an online collaboration and resource platform. Member districts went through a six-stage design process to address a shared problem of practice. By Spring 2018, districts had completed two cycles of instructional improvement.
Members reported greatly benefitting from the network in two broad areas. First, members appreciated the access to high-quality expertise, professional development, and instructional resources they would not otherwise have had. Second, members found it useful to exchange ideas, collaborate on common issues, and build a shared sense of what a good instructional program looks like.
This trial shows the potential of the RPLN model. Rural networks can cost-effectively provide expertise and build a professional culture from the ground up. State entities and technical assistance providers can support rural County Offices of Education with this model to build greater systemic coherence and improve educational outcomes.
For future networks, we recommend:
a shared network focus paired with site-specific work;
multiple, strategic opportunities to learn best practice;
intentional community and culture building;
a strong facilitator or hub, at least until the network is fully formed; and
a shared, data-driven improvement process