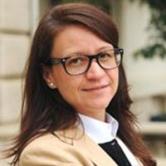 Professor and Associate Dean of Equity, Diversity, and Inclusion,
University of California, Los Angeles
Cecilia Rios-Aguilar is an education professor and associate dean for equity and inclusion at the UCLA Graduate School of Education and Information Studies. She is also a faculty director at PACE. Rios-Aguilar's work focuses on improving the educational and occupational trajectories of underrepresented and marginalized groups of students. She is past director of the Higher Education Research Institute at UCLA. Rios-Aguilar received her PhD in educational theory and policy from the University of Rochester.
updated 2021