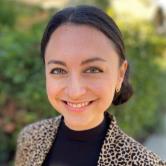 Director of Advancement and Partnerships, Smithsonian Science Education Center,
Smithsonian Institution
Holly Bichlee Glover is director of advancement and partnerships in the Smithsonian Science Education Center at the Smithsonian Institution. She was formerly managing director of corporate and foundational partnerships with Teach for America and director of operations at Alpha Public Schools. She was also a graduate fellow in the Rocketship Education network at Education Pioneers. Bichlee Glover received her MA in policy, organization, and leadership studies from Stanford Graduate School of Education.
updated 2016