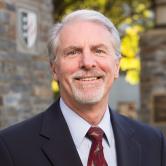 Professor of Education,
Claremont Graduate University
Jacob Adams joined Claremont Graduate University's School of Educational Studies as professor in 2006; was appointed executive vice president and provost in 2011; and served as interim president from January 2017 until June 2018. Adams was previously a research associate professor in the Daniel J. Evans School of Public Affairs at University of Washington and an associate professor of education and public policy at Peabody College, Vanderbilt University; there, he served as director of the graduate program in educational policy and as chair of the Peabody College Faculty Council. He was also an associate director at PACE. Adams chaired the boards of directors of the Kentucky Institute for Education Research and Abintra Montessori School in Nashville. He served on the national advisory boards for Standard & Poor's School Evaluation Services and the National Governors Association's Redesigning the American High School Initiative. Adams has been a consultant to the National Commission on Governing America's Schools, the National Forum on Accountability, National Research Council, and National Education Association.
updated 1988