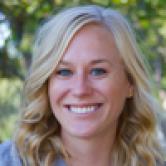 Postdoctoral Scholar,
University of California, Davis, MIND Institute
Kelsey Oliver is a postdoctoral scholar at the UC Davis MIND Institute. She has a background in psychology and special education. She is a trainer for the TEAMS project, providing CPRT to research participants. Oliver has over 10 years of experience working with children with autism spectrum disorder and their families in educational, clinical, and community settings; she is a board certified behavioral analyst (BCBA) by the Behavior Analyst Certification Board. She received her doctoral degree in education with an emphasis in special education, disabilities, and developmental risk studies from the University of California, Santa Barbara.
updated 2020