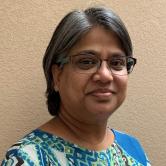 Senior Analyst and Improvement Specialist,
Fresno Unified School District
Malati Gopal is an organizational development and improvement specialist focusing on human centric and design thinking. She has worked as a program evaluation specialist and program developer with the World Health Organization, UNESCO, McKenzie Group Consulting, Georgetown University, Western Michigan University, and North American Aerospace Defense Command (NORAD). Gopal works as a senior analyst and improvement specialist at the Fresno Unified School District.
updated 2020