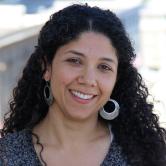 Director of Operations,
Services, Immigrant Rights and Education Network (SIREN)
Khalilnaji-Otto provides administrative oversight and support to SIREN. Prior to joining the organization, she worked at the Partnership for Children and Youth as the Summer Matters Campaign Director, supporting the campaign's partnerships, events, outreach and communications. Khalilnaji-Otto worked in education for 20 years, from being a classroom teacher to a program director of out-of-school programs. She earned her Masters of Science in Education from the University of Pennsylvania, and holds a Bachelor of Arts degree from The Evergreen State College.