PACE Event
Gubernatorial Education Forum
3:00pm to 4:30pm
Ontario Convention
Ontario, CA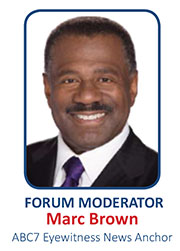 California State PTA, in partnership with Policy Analysis for California Education (PACE), will put the spotlight on education during the Gubernatorial Education Forum. Join this lively discussion, moderated by ABC7 Eyewitness News co-anchor Marc Brown, to learn more about each candidates' vision for California's public schools.
*Invited candidates include, in alphabetical order:
Travis Allen, California Assemblymember
John Chiang, California State Treasurer
John Cox, Businessman.
Delaine Eastin, Former California State Superintendent of Public Instruction
Gavin Newsom, California Lieutenant Governor
Antonio Villaraigosa, Former Los Angeles Mayor
Register online at www.capta.org/convention/forum. $25 admission in advance or at the door. All funding will benefit PTA's mission to positively impact the lives of all children and families.
*Current at time of printing. Subject to change. *Participation or sponsorship in this event does not denote endorsement of gubernatorial candidates by either California State PTA or PACE.