Early Childhood Education in California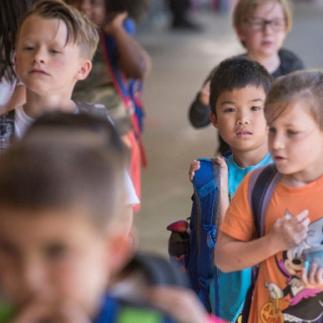 Summary
More than 24 million children ages 5 and younger live in the United States, and about one in eight of them—a little over 3 million—lives in California. Compared to the rest of the country, California has about twice as many children ages 5 and under who are first- or second-generation immigrants and live in families in which the adults are not fluent in English. About one in five of all children ages 5 and younger in California live in poverty, and nearly half of California's children live in households that are at or near the poverty level. While their parents are at work or in school, about 1.2 million of California's young children are cared for by relatives or attend preschool, a child-care center, family home care, Head Start, or a combination thereof.
Given the rapid brain development during a child's first five years of life, which lays the foundation for all future learning, California has a compelling interest and responsibility to ensure that these programs provide a safe, socially supportive, and effective educational environment for young children. Considerable research shows that children attending high-quality preschool programs receive significant benefits. California has many good providers; but for a state that once led the nation in early childhood education, early childhood education today is marked by diminished investments in quality, low wages, and highly fractured oversight.
KEY FINDINGS:
Early childhood education in California is a dizzying array of programs, funding sources, and regulations.
Children attending high-quality preschool do better in school and in life.
Child care is prohibitively expensive for many families and does not meet the needs of nonstandard work schedules.
California has a large proportion of children in care with no standards.
California has a poor record of identifying young children with disabilities and providing them with needed services.
Wages are so low that nearly 60 percent of child-care workers rely on some form of public assistance.
California has low and uneven teacher-training requirements for early childhood education programs.
The process for monitoring quality and improvement is fragmented, inconsistent, and insufficient.
The state has no centralized data collection system, limiting the ability to evaluate improvement efforts.
 
Deborah Stipek
Suggested citation
Stipek, D. (2018, September). Getting down to facts II: Early childhood education in California [Policy brief]. Policy Analysis for California Education. https://edpolicyinca.org/publications/early-childhood-education-california