Teacher Supply Falls Short of Demand in High-Need Fields, Locations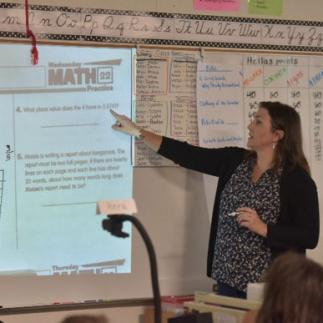 Summary
California is experiencing one of its most severe teacher shortages1 in two decades. Budget cuts and layoffs resulting from the recession contributed to a steep decline in the number of teachers in California, falling from a high of 310,362 teachers in the 2007-08 school year to 283,836 four years later. Recent efforts, including Proposition 30 and the Local Control Funding Formula, which, respectively, raised taxes for public education and transformed the state's school finance method, have helped to regrow California's teacher workforce. However, with sharp decreases in the supply of new teachers, there are still not enough qualified teachers across subject areas in many schools and districts to meet California's staffing needs.
This ongoing teacher shortage threatens recent education initiatives in the state—new standards, curriculum, instruction, and assessments—that aim to better prepare all students for college and careers.
These two reports examine California's teacher shortage, particularly how it affects the state's highest-needs students; explore the root economic and policy reasons behind it; and discuss strategies for balancing the supply and demand of qualified teachers.
KEY FINDINGS:
California has experienced a pronounced reduction in the number of credentialed teacher candidates.
Difficulty in staffing classrooms is both widespread and more severe in certain subject areas, such as mathematics, science, special education, and bilingual education, and in schools with larger percentages of high-needs students.
Several factors appear to be driving the shortage:
New demand for teachers as districts seek to return to pre-recession course offerings and class sizes;
Declining enrollment in teacher preparation programs; and
Teacher attrition.
Schools are addressing the shortfall with a dramatic increase in hiring of teachers who lack standard credentials and have less formal training.
Data limitations make it impossible to fully assess the impact of unequal teacher distribution in California.
Linda Darling-Hammond
Katharine Strunk and Dan Goldhaber
Suggested citation
Darling-Hammond, L., Strunk, K., Goldhaber, D., & Sutcher, L. (2018, September). Getting down to facts II: Teacher supply falls short of demand in high-need fields, locations [Policy brief]. Policy Analysis for California Education. https://edpolicyinca.org/publications/teacher-supply-falls-short-demand-high-need-fields-locations