AI Policy Guidance for Schools
A TeachAI Toolkit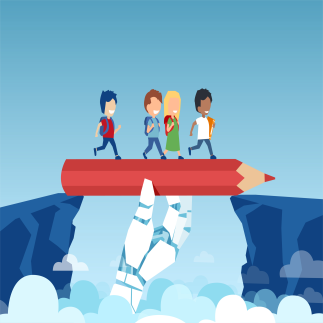 Summary

TeachAI—in collaboration with Code.org, CoSN, Digital Promise, the European EdTech Alliance, James Larimore, and PACE—has launched an AI Guidance for Schools Toolkit to help school systems worldwide meet the urgent need for guidance on the safe, effective, and responsible use of artificial intelligence.
What is the Toolkit?
A resource from the TeachAI initiative, the AI Guidance for Schools Toolkit helps education authorities, school leaders, teachers, and others create thoughtful guidance to help their communities realize the potential benefits of incorporating artificial intelligence (AI) in education while understanding and mitigating the potential risks.
The toolkit is a series of dynamic pages on TeachAI.org/toolkit where users can download resources and navigate quickly to sections that interest them most.
Why do we need a Toolkit?
There is an urgent need for guidance
Only 7 percent of school systems have provided guidance on the responsible use of AI (UNESCO) or have resorted to banning the latest AI tools.
Yet 81 percent of parents and 72 percent of students believe that guidance on the responsible use of generative AI for schoolwork would be helpful (CDT).
By engaging their communities in developing thoughtful guidance, an education system may realize the potential benefits of AI to improve learning outcomes, support teacher instruction and quality of life, provide students with critical skills, and enhance educational equity.
What does the Toolkit offer?
A framework for incorporating AI
The AI Guidance for Schools Toolkit supports school systems to navigate the safe, effective, and responsible use of AI by developing guidance.

School systems should start with guidance addressing student learning, teacher support, and management/operations, along with policies addressing immediate concerns such as data protection and academic integrity.
In the long term, schools should continue to review and develop their policies, while providing ongoing support for staff and students to learn about AI so they can utilize it in ways to improve and transform the school system.

Guidance may be incorporated into existing guidance or policies, or shared as dedicated statements about AI to students and staff.
Rather than just acknowledging the opportunities and risks of AI in schools, education systems should mitigate the risks, so the potential benefits can be realized.
Seven guiding principles
The AI Toolkit highlights seven key principles for educators to consider in developing guidance on AI and education for their staff and students:
               1.  Purpose: Use AI to help all students achieve educational goals.
               2.  Compliance: Reaffirm adherence to existing policies.
               3.  Knowledge: Promote AI literacy.
               4.  Balance: Realize the benefits of AI and address the risks.
               5.  Integrity: Advance academic integrity.
               6.  Agency: Maintain human decision-making when using AI.
               7.  Evaluation: Regularly assess the impacts of AI.
Many practical resources
Based on the seven principles, the toolkit offers real-world examples and sample language for:

School Guidance on the Use of AI
Addendums to Existing Policies
A Letter to Staff
Student and Class Policies
A Letter to Parents and Guardians
An AI in Education slide deck
PACE Director and Associate Director of Strategic Partnerships H. Alix Gallagher and Benjamin W. Cottingham, respectively, are the primary PACE contributors to this AI Toolkit.
Suggested citation
Code.org, CoSN, Digital Promise, European EdTech Alliance, Larimore, J., & PACE. (October, 2023). AI Guidance for Schools Toolkit. http://teachai.org/toolkit