What We Do
PACE is an independent, non-partisan research center led by faculty directors at Stanford University, the University of Southern California, the University of California Davis, the University of California Los Angeles, and the University of California Berkeley. Founded in 1983, PACE bridges the gap between research, policy, and practice, working with scholars from California's leading universities and with state and local decision makers to achieve improvement in performance and more equitable outcomes at all levels of California's education system, from early childhood to postsecondary education and training.
Recent Publications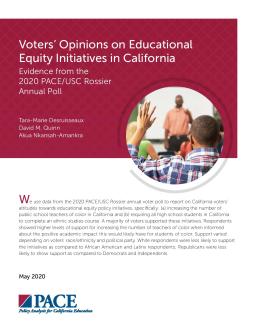 We use data from the 2020 PACE/USC Rossier annual voter poll to report on California voters' attitudes towards educational equity policy initiatives, specifically: (a) increasing the number of public...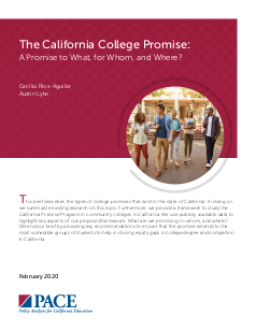 This brief describes the types of college promises that exist in the state of California. In doing so, we summarize existing research on this topic. Furthermore, we provide a framework to study the...