What We Do
PACE is an independent, non-partisan research center led by faculty directors at Stanford University, the University of Southern California, the University of California Davis, the University of California Los Angeles, and the University of California Berkeley. Founded in 1983, PACE bridges the gap between research, policy, and practice, working with scholars from California's leading universities and with state and local decision makers to achieve improvement in performance and more equitable outcomes at all levels of California's education system, from early childhood to postsecondary education and training.
Recent Publications
A COVID-19 Recovery Strategy
Community school strategies have emerged as a promising approach to mitigate the social and learning impacts of COVID-19. This brief draws on how the crisis-motivated responses of educators and school...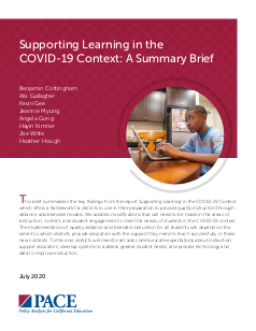 Research to Guide Distance and Blended Instruction
Though the delivery of instruction in the 2020–21 school year will be altered to mitigate the spread of COVID-19, a long-standing research base on high-quality instruction can inform decisions about...