What We Do
PACE is an independent, non-partisan research center led by faculty directors at Stanford University, the University of Southern California, the University of California Davis, the University of California Los Angeles, and the University of California Berkeley. Founded in 1983, PACE bridges the gap between research, policy, and practice, working with scholars from California's leading universities and with state and local decision makers to achieve improvement in performance and more equitable outcomes at all levels of California's education system, from early childhood to postsecondary education and training.
Recent Publications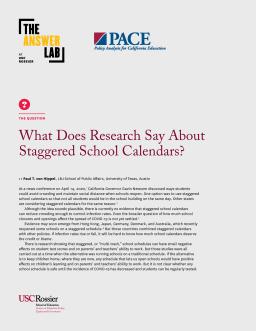 Governor Newsom has discussed staggered or multi-track calendars as an option for going back to school in fall 2020. A review of research on multi-track calendars shows that over time there are slight...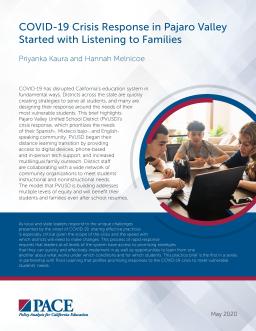 COVID-19 presents an array of challenges for school districts. In this brief, we share some promising practices learned from California's Pajaro Valley Unified School District (PVUSD), particularly in...