TOPIC
Continuous school improvement & support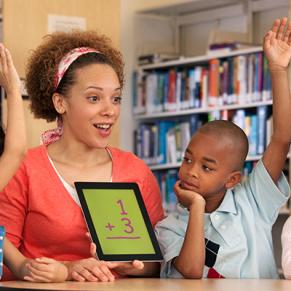 California and the nation are at the crossroads of a major shift in school accountability policy. At the state level, California's Local Control Funding Formula (LCFF) and Local Control and Accountability Plan (LCAP) process encourage the use of multiple measures of school performance used locally to support continuous improvement and strategic resource allocation. Similarly, the federal Every Student Succeeds Act (ESSA) reinforces this local control, requiring more comprehensive assessment of school performance and a less prescriptive, local approach to school support.
Calls for "continuous improvement" in California's K-12 education system are central to current discussions about school improvement in the state. Yet, definitions of continuous improvement vary, and knowledge of what continuous improvement looks like in practice is limited.
PACE research addresses the challenges of those working in this changing accountability landscape by providing descriptions of continuous improvement in diverse educational organizations and by identifying the supports and challenges necessary to take new improvement approaches to scale.
Continuous improvement is an approach to using data to diagnose the causes of lower-than-desired performance and then systematically test potential solutions. While there are multiple different continuous improvement methodologies, they share five core assumptions that differentiate continuous improvement from prior efforts at improvement: systems produce outcomes; change efforts focus on key processes; progress requires continual learning and discovery; frontline workers are uniquely situated to learn how to get ideas to work; as effective practices are discovered, they are spread throughout the organization.
PACE research helps explain what continuous improvement is and the steps California's educational organizations would need to take to become improvement organizations.
In adopting the Local Control Funding Formula (LCFF), California overhauled how school and district performance is communicated to educators and the public, how the state supports low-performing schools and districts, and how schools are funded. The accountability shifts embodied by LCFF mark an important change aligned with continuous improvement by moving away from mandates and towards local responsibility for improving performance. State data systems fall short, however, of providing data that would best support improvement, the California School Dashboard and Local Control Accountability Process are only engaging a small portion of the public, and the PACE research shows that California's System of Support is being implemented unevenly. Finally, even though LCFF increased funding for schools, California still falls well below the national average in adjusted per-pupil spending, and the resultant staffing models in most schools leave little time for educators to collaborate to do the work of continuous improvement.
As we talk with educators around the state who are trying to learn improvement, people frequently ask us what continuous improvement looks like in practice. PACE researchers explored the question of common challenges and promising approaches in school, district (Fresno, Garden Grove, Long Beach), and County Office of Education efforts to use continuous improvement. Additionally, we explore efforts to build improvement communities across organizations in urban and rural settings in California. PACE research shows educators are accessing well-run professional learning opportunities focused on the tools associated with specific continuous improvement approaches, but there is a dearth of educators with ample experience leading successful continuous improvement efforts. Additionally, many schools and districts are currently not well set up for improvement in terms of administrators' approaches to leadership, time for educators to collaborate, access to content expertise about problems of practice, and job-embedded support for improvement practices.
Recent Topic Publications